Top 3 Reasons Why you Should Delete Pinterest Pins and Boards.
When you're running your Pinterest like a business, you've got to be intentional and treat your environment with respect.
In this article, I'm going to go over not only the top 3 reasons why you should be deleting your Pinterest pins and boards, I'm going to tell you how to do it.
You will learn: the concept of maintenance, the hazards of dead links, and why you must get rid of them.
At times I like to serve dessert first, so I'm going to share with you the "How to delete pins and boards on Pinterest" before I tell you the top 3 reasons 'why' you should be deleting pins.
However, let me caution you when I share…
(Queue ominous music)
Make sure you UNDERSTAND the 'why' before you start deleting pins so that you don't make the same avoidable mistakes other novice users make. There are specific steps you should take before, during, and after deleting pins and boards.
You don't want to delete pins prematurely for all the wrong reasons and end up making more work for yourself. Do it properly the first time and with the right methodologies.
Here we go…
"Pins are like digital real estate and boards are like communities or cities"
[bctt tweet="How to delete pins and boards on Pinterest." username="cascadeavenue"]
Introducing The Elegant Social Media Templates
Your social media presence is now more important than ever before, no matter which platforms you choose to use. 
Your content has to appeal, get the attention of the right people (aka your ideal clients) to stop the eyes scrolling through, get them to connect, engage and share to their communities.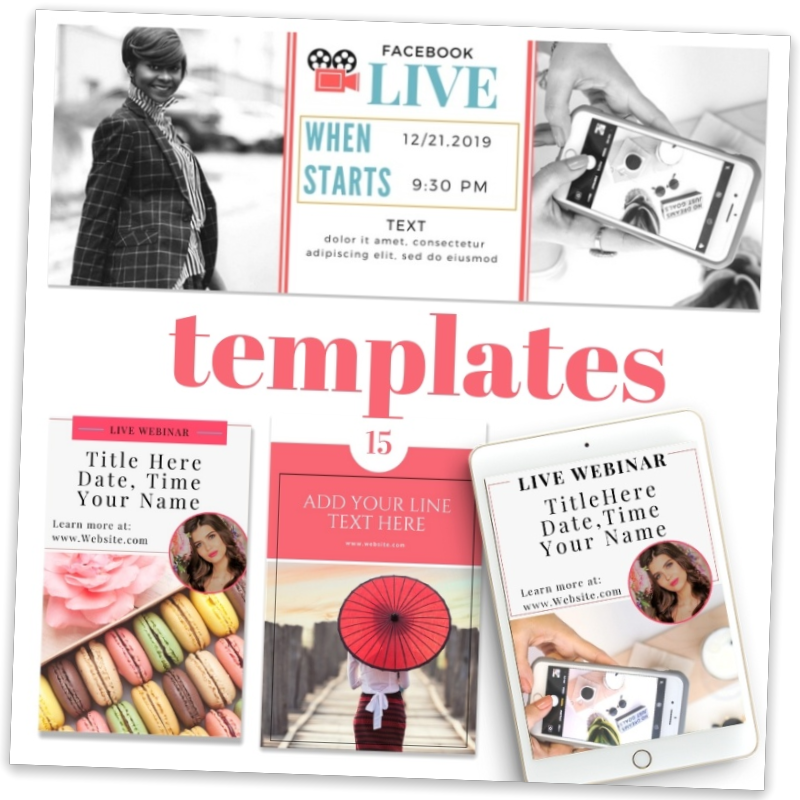 Pins are like digital real estate and boards are like communities or cities. By this I mean that they are all digital assets for your business. If you think of them in this manner you'll start to look at them in a completely different way.
How to Delete Pinterest Pins and Boards
Step 1.
Start with one of your boards and audit each of your saved pins. Start slowly and move through each one asking this question, "Does this still serve my market?"
If the answer is "yes" then move on to the next pin. If the answer is "no" then delete. Before deleting, determine if your pin can be updated, repurposed, or repositioned. The goal is to have that pin serving your marketplace again. If the answer's still "no" it is ready for deletion.
A few things you'll need to consider prior to deletion:
Are there- any critical links driving traffic to a pin that need to be redirected?
Are there- any ads attached to your pin that need to be paused or suspended?
Are you- referencing that pin in any of your content?
There are more questions you should be asking depending upon your Pinterest marketing campaigns.
How to Delete Pinterest Pins and Boards
Step 2.

Once you've answered these questions and your pinning soul has been soothed, you can simply delete the pin. Just know that you are making the right decision removing low-performing pins from Pinterest. It is essential to keep your boards lean and mean and always performing. This goes for each pin moving forward.
Now let's move into the nuances of why removing pins and boards from your Pinterest account is so important.
Here are my TOP 3 REASONS why you should delete pins & boards from Pinterest…
Presentation is everything: If you are using Pinterest to grow your business, you've got to consider the presentation of your boards. Think of it like a high-end store would when developing a fabulous window dressing.
It's important to make a great first impression: If your pins and boards are monotone, unappealing, and lifeless, bait that visually appealing hook with tasty eye-candy to lure your long-term clientele in!
Make the most of this FREE tool: Why waste your time having mediocre pins and boards when you have at your disposal a laser-targeted traffic-driver like Pinterest at your disposal. Remember this is a valuable tool that other heavyweight marketers are STILL trying to figure out!
Don't waste your time and precious resources like that. Please…
Doing your digital 'spring cleaning' not only gives your adoring audience something to return to again and again, but it also serves as an attention-grabbing tool. When every pin in a board is performing at its peak, it will most definitely become your most prized, powerful and profitable traffic driver.

A highly functioning board works much like word-of-mouth advertising in that it will feed a tailored message to your customers without any additional effort on your part.
Let the click of a button, or shall I say, PIN of a picture do the work for you.
It's simply good housekeeping to maintain your pins and boards. It's a step you can't afford to skip when building a  business that is. Deleting stale pins and boards will keep your account from becoming dated, valueless.
There is nothing more irritating than showing up to an event that's already passed, or a restaurant that's closed, or worse yet… a ship that's already sailed! Don't ask me how I know the last one…
I'll have to share that experience in one of my upcoming articles. It's the exact same thing on Pinterest. Imagine your audience finding a great image on one of your boards, their interest is piqued, and they are TOTALLY intrigued by what's on the other side of that button. Then it happens:
DEAD LINK!!!
Your pins and your boards are calling cards so deliver them well.
Hope you have enjoyed this article and on your way to maintain and curate great boards.
Here's another article about Pinterest Board Covers.
Want to learn:
Other proven Pinterest strategies?
Do you wish to put the traffic boosting power of Pinterest to work for your business? Are you a serial pinner, pinning images on your boards every day with nothing really to show for it?
I invite you to simply add your name and email address below to automatically access our FREE Pinterest Checklist.